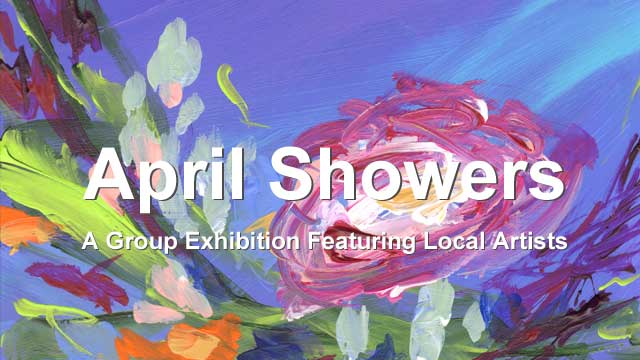 April Showers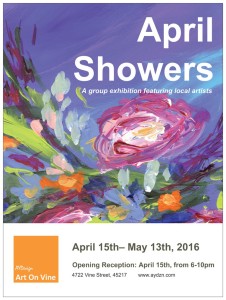 April Showers
Cincinnati, OH – AYDesign – Art On Vine® is pleased to present a group exhibition of new works featuring local artists.  The "April Showers" show will run from:  April 15th – May 13th, 2016 with an opening reception, April 15th, 2016 from 6-10:00 p.m.
Five local artists will be featured in the show:  Marion Corbin-Mayer, Gary Kessler, Susan Crew, Linnoir Bischoff Rich, Scott Korfhagen, and Amy Yosmali.  The works are inspired by and celebrates the natural beauty of flowers.
The warm blush of sun on a tender petal, the beautiful blossoming field, you can't help but feel that spring is finally here!
"April Showers" will run April 15th through May 13th, 2015.  The artists will be present at the opening reception Friday, April 15th from 6:00-10:00pm.  Gallery hours are Saturday's noon-6pm, and by appointment.  For additional information please contact Amy Yosmali, 513-620-4277  email amy@aydzn.com
Gary Kessler is a Photographer based in Cincinnati Ohio.  He engages clients in his studio and on location across the globe.
Linnoir Bischoff Rich was born to create!  If she were a musician, she would classify her genre as Indy/folk. Like many artists, she creates art to express what she is feeling and what she sees.
Susan Crew creates portals through which the viewer can connect with his/her deep unconscious and energies of the invisible world. Bold color and movement characterize her paintings.
Marion Corbin-Mayer began painting at an early age and has returned to it again and again.  A graduate of Columbus College of Art & Design (BFA, Advertising) and Wright State University (MA, Art Therapy), Marion's paintings have been shown locally at Essex Studios, the Cincinnati Art Club and are in both private and corporate collections.  Marion is a signature member of the Cincinnati Art Club
Scott Korfhagen is a Saint Bernard native, and a long admirer of the visual arts. He has dedicated his life to studying human interaction with, and observation of, the natural world. In his leisure, he enjoys capturing pleasing compositions.
Amy Yosmali is contemporary abstract artists known for vibrant instrumentation of colors, brushstrokes and movement in her works.
Trademark Statement
AYDesign®, and tagline, Art On Vine® are trademarks of Amy Yosmali, and are registered in the United States and abroad. The trademarks and names of other companies and products mentioned herein are the property of their respective owners. Copyright © 2016 AYDesign All rights reserved.