A Car Show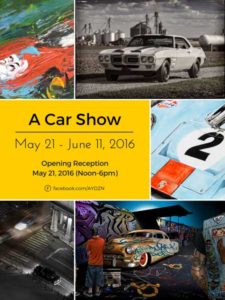 Cincinnati, OH – AYDesign – Art On Vine® is pleased to present a group exhibition of new works featuring local artists.  The exhibit "A Car Show" will run from:  May 21 – June 11th, 2016 with an opening reception, May 21st , 2016 from Noon-6:00 p.m.
Five local artists will be featured in the show:  Gary Kessler, Dave Miller, Art Spon, Amy Yosmali, and Linda Gillings.  The works are inspired by the beauty of cars.
The classic lines and beautiful curves, you can almost hear the engines roar as you explore the beauty of cars at this exhibit.  Weather permitting there may even be a "pop-up" car show outdoors  at the opening reception as well!
"A Car Show" will run May 21 – June 11th, 2016.  The artists will be present at the opening reception Saturday, May 21st from noon-6:00pm.  Gallery hours are Saturday's 1pm-5pm, and by appointment.  For additional information please contact Amy Yosmali, 513-620-4277  email amy@aydzn.com
About the Artists
Gary Kessler is a Photographer based in Cincinnati Ohio.  He engages clients in his studio and on location across the globe.  Gary currently serves as the Show Photography Director for the Ault Park Concours d'Elegance, Cincinnati Ohio.
Dave Miller Trained as an airbrush and technical artist Dave Miller (Evad Rellim) transitioned to the digital canvas in the late 90's. His current work combines elements of gritty urban decay with slickly rendered automotive culture that creates a perfect moment frozen in time.
Linda Gillings is a commercial photographer who had the pleasure of traveling to Havana, Cuba in 2015.  She has always had a fascination with cars, especially vintage ones.  Linda has been a fashion, wedding, and portrait photographer and is currently working on an abstract series.
Art Spon was born and raised in Northeastern Ohio and now resides in Pleasant Ridge, Ohio. As a child, he found great pleasure in drawing and painting. This recreational activity soon grew into a passionate hobby, as did his interest in the automobile.
Amy Yosmali is contemporary abstract artists known for vibrant instrumentation of colors, brushstrokes and movement in her works.
Trademark Statement
AYDesign®, and tagline, Art On Vine® are trademarks of Amy Yosmali, and are registered in the United States and abroad. The trademarks and names of other companies and products mentioned herein are the property of their respective owners. Copyright © 2016 AYDesign All rights reserved.