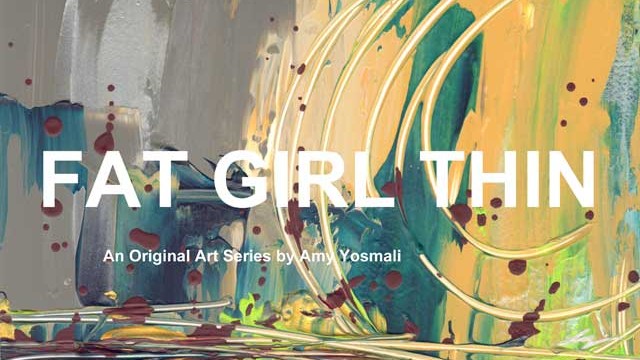 Fat Girl Thin – A Reflection
Reflection – September 2014, 30 Paintings 30 Days Challenge
A year ago, an artist friend of mine, Marion Corbin Mayer, told me about Leslie Saeta's 30 paintings in 30 days challenge. The purpose of the challenge is "about getting in to the studio to try new things. It's about painting more often. It's about having fun and developing new habits!" The idea is to get artists to create, and communicate about their work on a regular basis – to benefit the creative process, the technical, and for some the most challenging part, communicating about their work through blogs and social media. It sounded wonderful, I was in!
My participation in the 2013 30/30 Challenge was doomed from the start. I had two children under the age of 3, I had just moved out of my art studio of 10yrs, my entire art studio was packed and in a storage unit as my husband and I were in the process of converting a building we had bought into a new art studio and gallery for me, and renovating the upstairs apartment for a tenant. All I had was a sample set of paints and a few brushes and a pad of yupo paper. I did manage to paint several paintings while sitting on my daughters stool at her play table (or occasionally the coffee table), but was struggling to keep up with the painting, and certainly was not keeping up with the blogging or social media aspect of the project. I was failing. Then my father's health had taken an unexpected turn, and this project needed to be tabled for another time.
My father's health issues had a profound impact on me. He had spent the better part of 5 months bouncing in and out of hospitals and recovery. What he went through was exceptionally difficult, and I knew that if I didn't make changes to my health I would be destined to follow a similar path. So in January of 2014 I began the long and still ongoing process to get healthy.
When I found out in late August 2014 that Leslie Saeta was doing another 30 paintings in 30 days challenge, I knew I had to do it. Having a theme is suggested, but not necessary for this challenge. The previous year I did not have a theme, and felt like that didn't help my situation. So this year I was prepared with a theme…. I liked it, but I was not "in love with it". Then the concept and theme of "Fat Girl Thin" popped into my head. I was in love with it, but terrified. I decided to go for it, and I've had no regrets.
I knew going into this project that if I were to put myself out there, that I needed to give it my all. Here are a few fun facts about this project:
Over 699+ artists registered to participate in this challenge representing 20 countries
I did work ahead on all of my paintings, there would have been no other way I could complete the project otherwise… I have two young kids, and a complicated life – I would have been insane not to!
The paintings are in chronological order to my actual experience since January. I broke down each month from January – September, and assigned 3-4 words/phrases that best expressed my experience at that time, and painted accordingly.
There is a color story throughout the series of paintings that reflects the actual season in which that experience occurred.
Color or colors from a painting are incorporated into the next consecutive painting in the series.
I wrote most of the blog entries the same day that they were posted.
The best part of this experience has been the wonderful response I have had from everyone who has been following the Fat Girl Thin series for the past 30 days. Your likes, shares, and comments to my daily posts on Facebook and my blog have been deeply appreciated. Your interest helped others to gain interest and follow along.
What's next for the Fat Girl Thin series? I still have a long journey to go, and I'm sure plenty of inspiration will occur along the way. For now, the daily posts will subside, and be replaced with occasional posts of new works or series I am working on. Depending on the interest or feedback, I may consider doing another 30 days 30 paintings in March continuing where I left off with the Fat Girl Thin series and/or explore other options such as compiling the series into a book or calendar.
I invite you to share with me your thoughts on the Fat Girl Thin series as a whole, as well as insights as to which were your favorite posts and paintings, and more importantly why. Your feedback will be extremely helpful!
Thank you all so very much for your time, and interest in the Fat Girl Thin Series – I sincerely appreciate it!
~ Amy Yosmali
Click here to purchase original