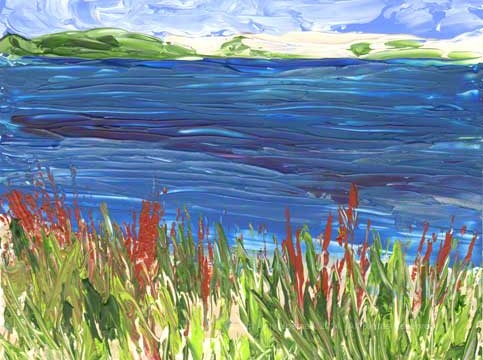 Destin Series: Western Lake
While in Destin, my husband and I like to take little day trips along Scenic A30 this trip was no different. Along the way near Santa Rosa is this beautiful lake called Western Lake. What caught my eye were the amazing colors – I naturally made my husband pull the car over so I could take a few pictures to reference for a painting during our stay.
Western Lake, is a rare coastal dune lake, so rare they are only found in Walton County FL and in remote portions of Africa. What makes this lake so beautiful is that unlike the bright emerald and teal colors of the gulf waters, the lake water is this beautiful deep blue with ribbons of purple due to the tannic acid from the pine and cypress needles and other organic matter that has stained the water before washing into the lake.
Click here to purchase a custom print
Click here to purchase originals