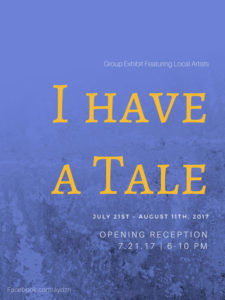 I Have a Tale
Cincinnati, OH – AYDesign – Art On Vine® and Partners in Art, LLC are pleased to present a group exhibition of new works featuring local artists.  The exhibit "I Have a Tale" will run from:  July 21 – August 11th, 2017 with an opening reception, July 21st, 2017 from 6-10 p.m.
Tales of old and new, as depicted through vibrant imagery of art. "I Have a Tale" Is a group exhibit featuring creations by local artists Heather Mingo, Priya Rama, and Katherine Thomas that conveys a strong narrative of their own tale, or have been directly inspired by literature.
For additional information please contact Amy Yosmali
About the Artists
Heather Mingo has been creating visual art since she was a child.  She attended The School for Creative and Performing Arts as a visual art major. She owned and operated a mural business prior to opening a studio in 2001 where she began showing original pieces.  Since then she has shown her work in galleries both locally and nationally, and her work is included in several private collections.  Her current work is multi-dimensional mixed-media that combines vintage papers, colored pencil and acrylic paint.
Priya Rama's art, like her life, revolves around her chronic migraines. Her work attempts to represent the multi-dimensional images of her mind onto a flat surface. Each piece she creates evolves from a meditative and introspective process, wherein she becomes one with her art: It is being aware in that moment, acknowledging the pain, and losing herself to the unfolding imagery. Often, completing a painting acts as a release, and reminds her that her mind can do more than just process pain: It can transform pain into beauty. She hopes that her paintings inform viewers about the migraine experience.
Katherine Thomas is a freelance illustrator, working with colored pencil, graphite and pen. Her imaginative artwork has been included in many juried exhibitions, as well as private collections, throughout the United States, Canada, Great Britain and Denmark. Commercial Illustration work includes projects for MadTree Brewery, Verdin Bell Co., and story illustrations for California Kids Magazine. Her drawings have been featured in Colored Pencil Magazine, and also the books, Strokes of Genius 8: Expressive Textures,  and Strokes of Genius 9: Creative Explorations, published by Northlight Books. Katherine also served as a judge for the 2016 Congressional Art Competition. Originals and prints of her artwork can be seen at the Pendleton Art Center, in Cincinnati. Katherine is a member of the Society of Childrens Book Writers and Illustrators, and Colored Pencil Society of America, with signature status.
Trademark Statement
AYDesign®, and tagline, Art On Vine® are trademarks of Amy Yosmali, and are registered in the United States and abroad. The trademarks and names of other companies and products mentioned herein are the property of their respective owners. Copyright © 2017 AYDesign All rights reserved.