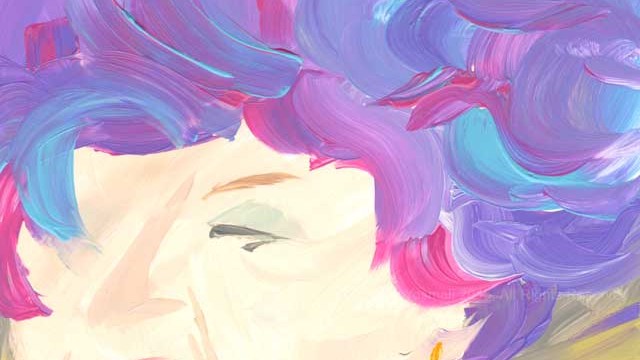 Mrs. Slocombe
Painting 1 of 30 – January 2015, 30 Paintings 30 Days Challenge
My first "Happy Place" was when I was in college full time, and working full time.  After a long day of school and work, I needed to just veg out while I finished my ramen noodles (yes, I was a cliche) and got ready for bed…  "Are You Being Served" was the perfect ending to my crazy days.
Who knows why I got hooked on this show, maybe it was because I worked retail, and therefore could relate to the show.  I couldn't have been the only 18-20 something year old who was hooked on "Are You Being Served"… right????
My favorite character was Mrs. Slocombe.  She was a bold lady, ahead of today's hair color trends 4 decades ago!
Kelly Osbourne, Katy Perry, Kesha, and Nicki Minaj's colorful locks are nothing new, Mrs. Slocombe was rocking the vivid locks as far back as 1972!!!!
She had green, purple, pink, rainbow colored hair… so many colors that someone actually put together a chart to illustrate the numerous colors she adorned over the years – never once wearing her own natural color.
This painting is inspired by Mrs. Slocombe's colorful locks.